MEMBERSHIP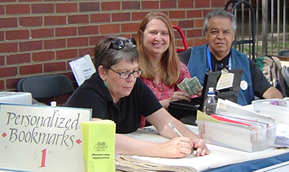 Join the CCC!
Membership is open to those interested in the field of hand-lettering and who support the mission and purpose of the Corporation. Whatever the level of interest, be it merely as an admirer of calligraphy, student of calligraphy or as a professional lettering artist, we welcome your participation.
Member Benefits
Members receive the following benefits:
Reduced rates for instructional workshops sponsored by the Chicago Calligraphy Collective
Priority workshop registration for popular workshops
The Newsletter, a monthly publication providing current information on upcoming workshops, lectures, meetings and exhibits
Access to participate in two annual calligraphic exhibits:
-The juried exhibit, Exploration, which showcases the finest work created exclusively by CCC members
-The All Members Show, which is open to any CCC member who wishes to participate
A membership directory
A membership card
Opportunity to post information about your calligraphy business on the CCC website (details on Membership Form)
Membership Fees
(Membership year begins March 4.)
$30.00 for a one-year membership (U.S. only)
$40.00 for a one-year membership (International, payable in U.S. dollars)
$50.00 for a two-year membership (U.S. only)
$12.50 for a one-year junior membership (available to U.S. high school students and younger)
Download a copy of our Membership Form.
Have a question regarding CCC membership? Please contact our Membership Director or by regular mail:
Chicago Calligraphy Collective
ATTN: Membership Director
P.O. Box 11333
Chicago, IL 60611