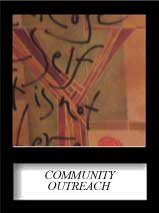 COMMUNITY OUTREACH
Inklings
In an effort to further foster our Collective's mission, the Board of Directors has earmarked funds which will be available for anyone who wishes to undertake a small scale program which would serve to educate or train anybody—from school children to senior citizens–about the calligraphic lettering arts. Money granted by the CCC's Board of Directors will be used to help defray the cost of materials for these projects.
Anyone interested must submit a proposal to the Board outlining the details of their undertaking, including a project description and budget. If the project meets the Chicago Calligraphy Collective guidelines for educational purpose and intent, funds will be disbursed for purchasing supplies or related expenses such as audio-video rental. CCC members could also be invited to participate in the program by sharing a calligraphic offering. Members will be responsible for overseeing the project to its completion. In addition, we ask that pictures or finished projects be shared with our organization.
Download an Inklings application. For more information, contact our Ad Hoc Director.
Community Outreach and Educational Programs
Do you have an idea to help spread the word about calligraphy? Contact our President or Vice-President to share your ideas or to find out about additional community outreach programs.